I've been exploring and talking a lot about my feelings over the past couple of weeks. I hate doing that. I'm not good at it; it's incredibly inconvenient because if I talk about them I have to reflect on them and if I reflect on them I have to admit I'm not perfect and that I really do have the feelings even though I don't do the feelings. Who has time for that? I'm not a starving, mediocre poet writing lines about the trash on the sidewalk. I've got bills to pay.
Don't get me wrong, I'm totally fine talking with other people about their feelings. I'm quite good at that, actually, and make my living helping other people explore their reactions and why they have them and then overcome them so we can get stuff done. Because after the feelings have been felt, there is still stuff that has to get done in order for the progress to continue. And I am all about progress while I still do care about the feelings of others.
Unless the progress is mine, apparently. That's what I've learned while feeling my feelings over the past few weeks.
I have made very little progress toward my own goals in life. I've rah-rahed and fist-bumped my way through team-building exercises and I like to hope I've inspired other people to reach their potential, or at least think they can. But if life progress were measured in speed and miles I'd be a flea in a rusted go-cart a couple of inches from the starting line.
"There's nothing wrong with feeling things," I've been told, usually by people who have their lives together and don't worry about all of the many possible scenarios that have literally and will likely never happen to them in this life, which is one of the things I catch myself doing. (I legit waste a lot of free time having imaginary arguments in my head that never come to fruition – line by line, action by reaction. I'm told this is one of the trademarks of a true INTP. Of course it is, because I wouldn't have a useful trademark like making friends easily or being naturally athletic. No. Instead, I'm one of the lucky ones who has a high probability of being recommended for new anti-anxiety drugs and clinical trials to help alleviate ADHD symptoms.) And that's great for them if they like to get worked up over their emotions and really engage with that mess. I hear there are also some people who love kale smoothies in the morning. I'm happy for them.
I would rather be stripped to the skin, drizzled in honey, and tied face-down to the top of a fire-ant hill (is that a thing? do fire ants have hills?) than talk about or even acknowledge 'the feels.' I feel the same about kale breakfast smoothies, to be fair.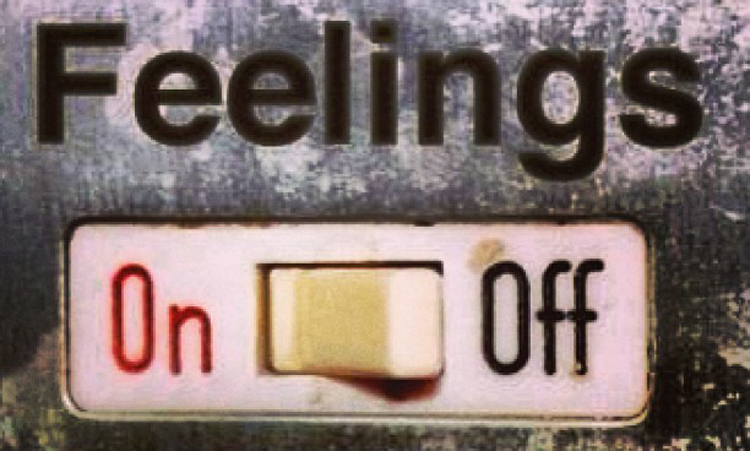 Unfortunately, through an ongoing series of events (and we're talking years here) and because of some of the books I've been reading lately to add some 'tools to the tool-belt' for work, I've been reflecting on my feels and dreams and hopes and wants and expectations and hang-ups and fears and co-dependencies and I've realized I've got diddly squat compared to what I have the potential to have, and worse, compared to what I expect(ed) to have at this stage of life. I've been forced to look in the mirror, stop having imaginary arguments for a minute or two, and tell myself, sternly, what I always hated hearing from grown-ups when I was a child: I am so disappointed in you.  I thought you were better than this.
I don't know if you've ever sternly talked to yourself in a mirror before, and if you have I hope you had the sense not to do so as soon as you rolled out of bed and before you've combed your hair, brushed your teeth, or wiped the previous night's mascara out from under your bloodshot eyes and the flaking-off drool from your chin. Regardless, it ain't cute.  It's downright ugly if you do talk to yourself in the mirror first thing in the morning like I did, but at any time it ain't cute – not if you do it right.
The crux of the issue is that I'm disappointed in myself for being less than what I know I can be because I've spent all of my time ignoring my own feelings, needs, goals, and dreams in order to take care of other people's feelings and apparent needs. Were they real needs for those people? Possibly, but I didn't have to be the one to provide for them or fix them. The fact that I felt compelled to do so was a disservice to them and to myself. I tied my self-worth to the validation I felt when others needed me, or at least appeared to need me, instead of to what I know is true about me. I believed I could only be worthy of love or friendship or success if I could prove how useful I was. I watched dream after dream after dream of mine fall by the wayside, fiery meteors of death and devastation crashing to the earth around me. I let go of little pieces of myself along the way, minute by minute, dust particle by dust particle, until I lost myself. I lost friends, time I would've loved to spend with them and with my family, the balance I felt when I focused on things I loved like art, writing (see? I'm slowly getting some of my own back), the outdoors, and anything I could possibly get my hands on to read. I lost money, and gave up my goals to travel, and at one point my dumb@$$ gave up the chance at a MacArthur Fellowship.  (Yeah. I'm an idiot. I got that.) I gave up everything I loved about me, everything I loved before I decided I needed to be needed.
All of it. Gone.
I tried to replace it with taking care of people and working my tail off and fitting into a mold that I thought my family expected me to fit into. I tried to tell myself that it was worth it and that maybe this was what I was meant for – to be last in order to gain my ultimate reward. Isn't that in the Bible, too? "The last shall be first and the first shall be last" (Matthew 20:16)? (FYI, it turns out that verse isn't about being a martyr like I thought. It's about a landowner being smart with his resources regardless of what others do for him or how much they think they need from him or deserve. Let that sink in a bit.) And while during some of that time I learned some new things about myself, about how strong I am and can be, and about what I can tolerate and withstand before I'm ready to start slamming faces with a baseball bat, I've finally realized something deeply, exhaustingly disturbing.
I was wrong.
And I know I said that the crux of the issue is that I'm disappointed in myself but truly the crux of the crux of the issue is that I was wrong, and I really, completely, totally, wholly hate being wrong. (<— And that is the true crux of the issue. I'm petty that way. I know my truth.) It makes me feel stupid, worthless, and embarrassed. And you know what? I don't like to feel my feelings, at least not those feelings. Those feelings suck like a stoner siphoning helium from a birthday balloon behind the local Chuck-E-Cheese.
Now, the heart of the crux of the ocean of issues is the fact that I have to make a decision to do something about it. And that means I have to confront my feelings and then talk about them with the people I've given so much up for, and we don't do that here. We don't fight, we don't disagree, we don't stay mad at each other, and we don't talk about how unappreciated I feel because of everything I've given and done and everything I haven't gotten in return.
We don't do ROI (that's Return On Investment for you non-business people) discussions and we sure as heck don't rock this boat we've been patching with peanut butter and holding together with frayed bungee chords while we've been navigating the stormy seas of the hurricane we've been in for a decade. We talk about how we'll pay the bills and feed the kids and how in another decade we'll go on an imaginary trip overseas so we can do more things I really couldn't give a flying flip about but that I support because it's what I thought I was supposed to do.
And again, let me be clear: I did this. This was me. There is no blame to be laid but at the door of my dilapidated shack of self-efficacy, washed-up dreams like fragments of seashells and plastic can-rings left by the tide as it washes back out to deeper, bluer, livelier places. I'd love to be able to end this by saying I have a brighter outlook (I do, I think, but I'm hesitant to hope) or with a witty turn of humorous phrase. But I can't, because this is serious stuff I'm addressing.
And we don't do that here.